by pittcaleb
640 views
Link: http://news.google.com/news?q=dolphins%20navy%20armed%20Katrina&hl=en&lr=&sa=N&tab=wn
According to many reports, killer dolphins are on the lose in the Gulf of Mexico. Seems these dolphins, trained by the US Navy as killing machines, armed with "'toxic dart' guns," were set free during hurricane Katrina.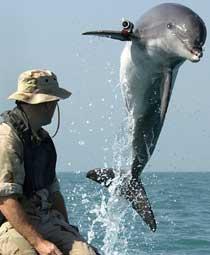 OK - I'll give you that trained military dolphins were set free by the hurricane, but do you think they actually had poison dart, laser beams and smart bombs attached to them when the humans evacuated? Somehow I doubt this...
But if you're traveling in the Gulf and see a dorsal fin approaching, be carefull...